*****NEWS*****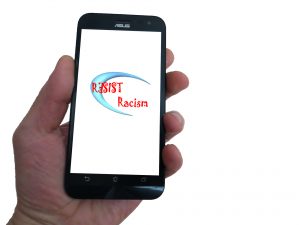 Welcome to RƎSIST Racism, the app that immerses you in someone's experience of racism and homophobia, 7 days experiencing racist and/or homophobic tests, tweets, and comments, respond and receive feedback!  Produced by the NABWMT with grateful appreciation to members in Milwaukee, Phoenix, Southern California, and elsewhere!
This application contains confronting content and mature content that may only be suitable for people over the age of 18.  It is recommended that younger users play this app within the context of an educational program in your school or community.
Download it! Play it for 7 days! Share with your friends & kids! Use it for discussion about racism, homophobia & HIV awareness!  Provide feedback directly to Mark!  (Apple version is in pre-production and will soon be available.)
SPECIAL Thanks to fellow Milwaukeeans Demetrius Mack, Michael Lisowski, Ian Musson, J.S. Bethea, Gene Mrozinski, Mark Behar for their contributions to the Creative Team in producing RƎSIST Racism!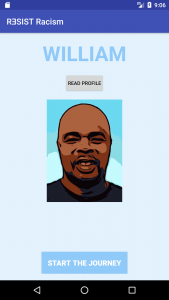 Are We Still Needed?
Is the need for an interracial gay men's group such as BWMT/Milwaukee being supplanted by general apathy and assimilation of inter-racial Gay men into mainstream community activities? Is assimilation really happening in America's most segregated city??  Do you have a passion to meet and affiliate with other gay men interested in inter-racial social, educational, political, and cultural activities?  JOIN US, step up to the plate!
*****Newly Revised!  Upcoming Schedule of Events*****
[

Please Confirm

All Events at Locations! Meal Events and Private Home Parties

REQUIRE an RSVP

: please call party host, (listed below) for address, instructions, what to bring, etc.]  
Note that in column 1 underneath date, are the initials of the member assuming responsibility for maintaining schedule for that month, RSVP contact information, any special communications. MB = Mark Behar; ML = Michael Lisowski; DAL = DA Leonard; DM = Demetrius Mack.
10/21/17

ML

3rd Sat Event

6:30pm

Combined Gamma/Milwaukee http://www.milwaukeegamma.com

and BWMT/Milwaukee Party at Ian Musson's home! RSVP Required! (Contact Host, or Michael Lisowski 414-477-8500 for details!)

10/28/17

ML

4th Sat Dinner

6:00pm

14th Chapter Anniversary:  Devons @ Bayshore  http://www.devonseafood.com/menus.aspx?location_id=164

Note:  All Current Members as of July 1st will receive gift that may be used for this dinner.

11/02-12

DAL

Special Events…
UWM LGBT Film Festival at UWM Union Cinema, Oriental Theatre—Entire Schedule of Films online:  http://uwm.edu/lgbtfilmfestival/events/
11/03/17
1st Fri Fish Fry
No Fish Fry Today!  Visit the UWM LGBT Film Festival!  —Entire Schedule of Films online:  http://uwm.edu/lgbtfilmfestival/events/
11/4/17

DAL

Sat Event

6pm

UWM LGBT Film Festival at UWM Union—Entire Schedule of Films online:  http://uwm.edu/lgbtfilmfestival/events/
11/17/17

DAL

Friday Fish Fry

6:30pm

O'Lydia's
11/25/17

DAL

4th Sat Dinner

6:30pm

Thanksgiving Weekend

Rainbow Potluck at MKE LGBT Community Center

12/1/17

DAL

1st Fri Fish Fry

6pm

Family's Table

https://foursquare.com/v/family-table-restaurant/4b49db72f964a520cb7426e3

12/16/17

DAL

3rd Sat Event

6:30pm

TBA
12/23/17

DAL

4th Sat Dinner

6:30pm

Christmas Weekend
12/30/17

DAL

New Year's Weekend
TBA

MB

TBA
Holiday Party: White Elephant Potluck, Location TBA
1/5/18

DM

1st Fri Fish Fry

6pm

Jimmy's Island Grille at Radison Hotel/Mayfair
*****Milw BWMT @ St. Seb's Fish Fry in 2017*****
2014 NABWMT Convention in Milwaukee
2014 Milwaukee Convention Planning Committee